Aritcle forwarded on by Larry Wright by the Los Angeles Times
Magic Castle fire: Officials assess damage to historic venue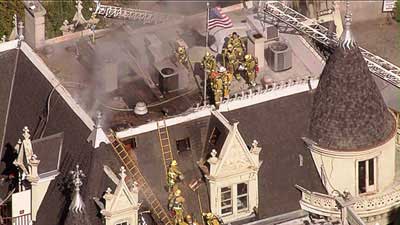 Fire officials are trying assess the damage after a greater-alarm fire ripped through the famed Magic Castle in the Hollywood Hills on Monday.

Fire crews said the blaze was contained largely to the attic and walls of the historic venue but that there might be significant water damage.

There is no immediate cause for the blaze, but one source told The Times that maintenance had been done in the building Monday morning.

According to the Los Angeles Fire Department, a fire was reported in the attic of the building at 7001 W. Franklin Avenue after noon. An LAFD spokesman described it as a greater-alarm fire and said crews were on the scene trying to put it out.

Several photos on Twitter and television coverage showed LAFD personnel on ladders and on the roof of the Magic Castle working on the blaze.

No injuries were reported.
Privacy Policy and Copyright Notice

Our subscriber list is not made available to any other companies or individuals. We value every subscriber and respect your privacy. You can subscribe to or unsubscribe from the Magic New Zealand® E-zine at www.magicnewzealand.com Magic New Zealand® E-zine is published each Sunday. The opinions expressed therein are those of the individual contributors and not necessarily those of Magic New Zealand®. Neither Magic New Zealand® nor Alan Watson vouch for the accuracy or reliability of any opinion, message, statement, or other information reported via Magic New Zealand® E-zine. Subscribers to this publication and authors who contribute to it by doing so agree they will not hold Magic New Zealand® or Alan Watson, jointly or individually liable or responsible in any way for the opinions expressed therein.
Magic New Zealand® reserves the right to alter, correct or disregard any articles submitted. Readers are encouraged to submit timely articles or news items which may be of interest to subscribers. By submitting articles to this e-zine, the authors grant Magic New Zealand® the right to publish such articles and such authors confirm their copyright of the material submitted. All works published by Magic New Zealand® are protected by international copyright legislation and articles must not be published for profit by anyone other than the individual authors without the written permission of Magic New Zealand®. Notwithstanding the foregoing, this publication may be freely redistributed, but not sold, to other magicians if copied in its entirety, including the copyright notice below and the above disclaimer.

Copyright © 2011 Alan Watson.

Magic New Zealand® E-zine