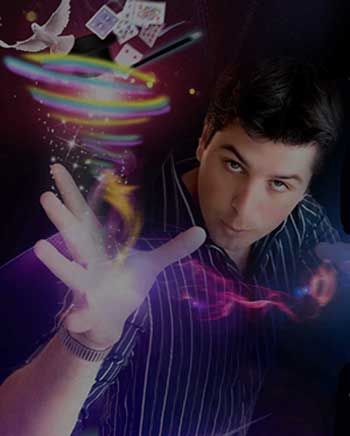 George Iglesias lecture - Peru
Friday 1st June



Auckland Only Lecture
Sponsored by IBM Ring 160 & Magic New Zealand
Time: 7.30pm sharp
Venue: The Shore City Magicians Club Inc. club rooms, Senior Citizens Hall, back of the Takapuna Library, The Strand, Takapuna, Auckland.
Adult Lecture fee: $25
Juniors (School age) and financial IBM 160 members: $10
Wives or Partners: $5
Email: Secretary - Keith Garrett - kgmagicnz@hotmail.com
Phone: (09) 577 1557

George Iglesias Bio
George Iglesias is an international magician and illusionist that have been performing magic during the past 20 years with great success in Peru, South America and the US.
Born in Peru, he is a TV personality and considered the most recognized magician from his country, having appeared on national and international Television Shows more than a 1000 times, including presentations for ABC, CNN, ANTENA TRES SPAIN, UNIVISION, MEGA TV and TELEMUNDO channel.
Actually, George Iglesias is part of the Cast of TELEMUNDO TV Network performing in his own TV Segment "Magia Nitida" at the TV Show "Nitido" featuring his magic and illusions form the streets of Miami.
Recently George was selected to be part of 'Le Grand Illusion Autour du Monde" a 90 min TV Special recorded by the French Network Channel 4 and transmitted in all France and Europe, There George performed with 5 of the top magicians around the world such as Franz Harary Marco Tempest, Chris Korn, JB Benn and Kamel.

George is also a magic inventor and has created many magic tricks that are actually being used by hundreds of professional magicians around the world. Some of his most famous creations include: The Six Pack Surprise, The Magic Popcorn Machine, Food to Go, Cup Zero, Dollar to Credit Card among many others.
George is the recipient of International Awards such as: The FLASOMA 2009, as the Inventor of the Year 2009 by the Latin American Federation of Society Magicians, The CADI 2008, as the First Place in The Argentinean Magic National Championship and the GRAND PRIX STAGE AWARDS 2007 as the Florida State Magic Champion, to name a few.
In his country, George is highly involved in the promotion the art of magic, that is why in 2001 he founded the first and unique school of magic in Peru, TWISTER MAGIC STUDIO becoming an institution in which hundreds of children, teenagers and adults had the opportunity in the past 11 years to learn the art of magic, some of them became professional magicians of today and other became great supporters of the magic activities in different fields.
George learned the art of magic since he was 12. Magician Jorge Lam from Peru became his first magic teacher. During his 20 years performing magic, George had the opportunity to show his art in more than 15 countries to a large variety of audiences and traveled around the continent to learn from many other magicians from who he has achieved knowledge and great experience.
Among his achievements as a magician, George has a degree in Marketing and Advertising from the IPP (Peruvian Institute of Advertising) and a degree in Communications and Dramatic Art from the CHCH (Charles Chaplin Institute)
As an actor he has worked recently in the Soap Opera "Pecados Ajenos" playing the roll of Jhony transmitted by TELEMUNDO-RTI, and was part of the cast of "La Viuda de Blanco", "Mas sabe el Diablo", "Procura Amarme Mas" among others. On Stage George has created and directed five big stage shows: "MÁGICAMENTE" "MAGIC GAMES", "MAGIC DREAMS" "ILLUSION TRIP" and "ANIMAGIC". All of them presented with great success. Thousands of people attended the show and received a very positive feedback from all the press.
In his professional career as a magician George has develop corporate events and special shows for very important corporations such as: Universal Studios, Telemundo International Network, Samsung, The PGA Tour, Coca Cola Co., Marriot Hotels, Novartis Lab, United Nations, LAN Airlines, Continental Airlines, Burger King, The Miami Metrozoo, HSBC Bank, KFC among others.