Christchurch NZ Labour Weekend
2012 (19/10/2012 to 22/10/2012)
For those who are making flight reservations the convention starts on Friday night 19th October and finishes on Monday 22nd October at 2.30pm.

Five headliners that are confirmed
Shawn Farquhar (Canada)(US), Mark Mason (England) and Ken Scott (US), Felix (Spain) and The Gillam Family (USA)
FISM Award Winner Shawn Farquhar
Shawn Farquhar has been entertaining audiences around the globe for over two decades. His magic has been seen on Television shows like the X-Files and Highlander, in Motion Pictures like Spooky House and the Fly II, for corporate clients like IBM and Konica, and on the most luxurious cruise vessels such as Norwegian Star and Radiance of the Seas.
Recently Shawn has been a key note speaker/lecturer for the world's best magic events including London's famed Magic Circle, Siegfried and Roy's World Magic Seminar and the world's largest magic convention in Blackpool, England.

Don't take our word. The Canadian Association of Magicians awarded Shawn the MAGICIAN OF THE YEAR in 2003 and 2010, the Pacific Coast Association of Magicians awarded him the GRAND PRIX D'HONNEUR, the International Brotherhood of Magicians awarded him both STAGE MAGICIAN and SLEIGHT OF HAND MAGICIAN OF THE YEAR, making him the ONLY magician in history to win BOTH world championships and the Olympics of Magic in Beijing, China awarded him the highest award in magic, the GRAND PRIX WORLD CHAMPION OF MAGIC in 2009!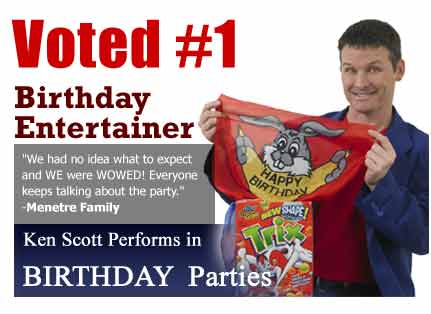 Ken Scott - Comedy and Children's performer
Ken Scott has over 20 years of experience, performing over 350 shows a year. He has entertained over a million people with his unique cutting edge programs. Ken is a two time winner of the Greater Atlanta Magician of the year award. In addition, Ken was also featured on CNN Headline News, where he headlined their segment on A Day of Magic. Ken performs yearly in Hollywood California at The World Famous Magic Castle, which is home to the Academy of Magical Arts. Ken has also performed five times at the White House. Ken has also appeared on ABC's America's Funniest Home Video.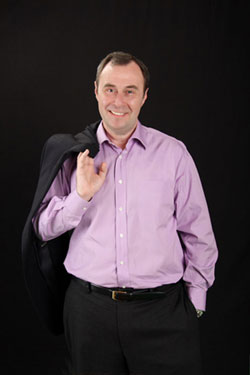 Mark Mason - Elite close-up magician
Mark Mason has been a full time professional magician for over 20 years he has performed his unique brand of magic at every type of event imaginable, from small select groups of celebrities to the Las Vegas Strip. He hails from England, over the last decade his career has rapidly expanded throughout the USA. Mark and his wife emigrated to Florida and have not looked back since. He is recognised as one of the world's premier close up magicians. With his silky skills and fast wit he has rapidly become one of the most sought after magicians in the corporate world. Mark's unique style of personalized close up magic can be performed under any circumstances.
He has performed both for and along-side many leading celebrities including Bryan Adams, Simon Cowell, Prince Edward, Gordon Ramsey, Muhammed Ali, Sir Cliff Richard, The Duchess of Kent, Bob Monkhouse, Cirque De Soleil, Heather Small, UB40, and many many more.
Mark's prestige skills have been incorporated from small select private parties to large corporate gatherings. He has performed in over 30 countries. He has television appearances both in the UK and America to his credit and has also worked as a consultant for television.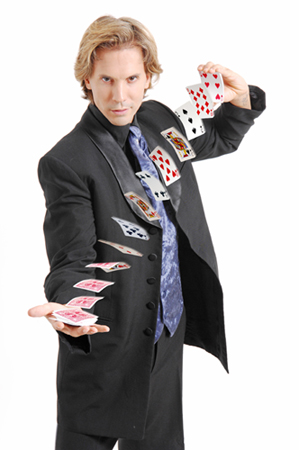 Felix from Spain

Felix The magician, surprising, fascinating and entertaining audiences of different ages and nationalities for at least 18 years. A teacher, magician, clown, lecturer and always curious by nature.
Born in Argentina and based in Spain for the last 10 years, where he has performed in prestigious halls, auditoriums and theatres. Specializing in magic for children, illusions and stage magic in both spoken and musical shows. For the last 8 years (with over 900 shows presented in hotels) he loves to surprise the most demanding European public with his international 50 minutes show full of musical magic.
He presents his show in the biggest hotels of Mallorca (Spain) during the summer season, the favorite vacation place for the upper social classes in Europe. Each year is hired to perform at private parties for politicians, actors, singers, athletes and businessmen who rely on his experience and professional responsibility. From the tennis player Boris Becker to the owners of multinationals companies such as the airline "Air Europe", "Lidl" (largest supermarket chain in Europe) or hotels chain "Sol Meliá" (the world's largest operator of holiday resorts).
For 5 years, along with his partner Claudio Casagrande, Felix creates Magiclatex, which today is the largest store specializing in latex products for magicians. Thousands of artists from around the world and many of them internationally renowned use their products and routines on their shows. Creator of effects combining the properties of latex with powerful neodymium magnets. The study of magnets and his great curiosity led him to modify and refine techniques and classical systems in order to create new effects. So a new, varied and dynamic show was created: "Magnets in Stage Magic and Close - up", where as a Bonus, he shows and explains his most impressive routines made with his own latex creations.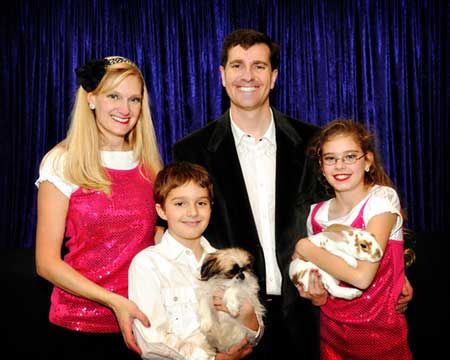 The Gillam Family (USA)
The Gillams are a delightful couple with clever ideas and wonderful magic. They have much experience and expertise in doing shows for children and family audiences. In the USA their schedule is booked full with performances and they get much repeat business which means they know what they are doing and they do it well. They are successful as working magicians which means there is much to learn from them.

Aaron is a psychology teacher who applies his intelligence and education to his magic lectures. The result is novel ideas, smart yet simple methods, and effects that are entertaining.

Aaron and Denise worked in my magic show for a summer season and I continue to use them whenever I can. I highly recommend them.
Duane Laflin
WARNING convention registrations will be
closing off at the end of this month on the
30th September
To help in the planning for catering and events we need to finalise our registration numbers. If you are planning to attend the convention please register NOW
If you are planning to attend register **NOW**
Convention registration form go to: http://www.ibmring160.com/media/7578/registration%20form.pdf
Credit card payment form for convention registration go to:
http://www.ibmring160.com/media/8357/skmbt_c451f12022209470.pdf
Alan Watson - Publicity and Marketing