Christchurch NZ Labour Weekend
2012 (19/10/2012 to 22/10/2012)
For those who are making flight reservations the convention opens on Friday 19th October at 2.30pm and finishes on Monday 22nd October at 2.45pm.

Six headliners confirmed
Shawn Farquhar (Canada), Mark Mason (England), Ken Scott (US), Felix (Spain), The Gillam Family (USA)
and Bernard Reid (NZ)
From Cruise ship to Christchurch
Bernard Reid will be appearing on the Friday opening night show and also he will be presenting his informative lecture on the life of Houdini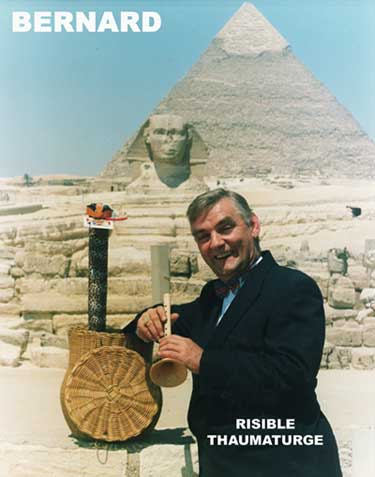 Bernard Reid GMM
Bernard's career in comedy and magic started in his native New Zealand and 2012 marks his fiftieth year as a professional entertainer. From the humble beginnings of a semi-professional career during his educational years, he has now worked in all aspects of show business around the world.

In 1966 he received his first overseas contract with a tour of his magic and illusion show through the Pacific Islands terminating in Sydney, Australia where he worked as an actor in half a dozen Television shows by day and continued his magic in nightclubs in the evenings.

In 1968 with the Vietnam War at its peak he was contracted to tour the country for the troops and at the end of this experience he settled in Hong Kong where he became the Entertainment Director for the Miramar Hotel. This involved performing his show as well as booking acts and producing the shows for the numerous showrooms during this boom period.

Whilst at the Miramar Bernard moonlighted, working with a team of actors from Radio Hong Kong dubbing English soundtracks for Chinese and Japanese movies. His voice is that of the male leads in over ninety such movies including all the episodes of The Samurai Television series.

His comedy magic act then took him to the Middle East and Europe where he toured the nightclub circuit extensively. America beckoned in 1973 when he was booked to appear in "C'est Ca Paris" at the Aladdin Hotel in Las Vegas. He also has the distinction of having performed before the late Shah of Iran, the King of Thailand and the former Prime Minister of Canada, Pierre Trudeau.

His career for the last thirty-five years has alternated between corporate bookings ashore and working on cruise ships, which is a life he enjoys immensely. Having performed in over one hundred countries Bernard has settled now for more time at sea and less time on the road.
Bernard Reid's Lecture on the life of Houdini

Bernard has two passions apart from performing. Studying the history of magic and the life of Houdini.

So much erroneous information has appeared in print in pulp literature about Houdini that it infuriated Bernard and he was determined to set the record straight. He put together an amazing audio-visual presentation reproducing documents, rare film footage and the only sound recordings of Houdini's voice. As Bernard says, "I don't make any statement about Houdini that I can't back up with valid documentation." This amazing capsulization of the life of Houdini has been presented to magic clubs in the United States and the United Kingdom as well as in other locations. As Bernard is back in New Zealand temporarily this convention is the perfect platform for magicians to enjoy this unique presentation.

WARNING convention registrations will be
closing off at the end of this month on the
30th September
To help in the planning for catering and events we need to finalise our registration numbers. If you are planning to attend the convention please register NOW
Only 10 rooms left at the convention hotel
Convention registration form go to: http://www.ibmring160.com/media/7578/registration%20form.pdf
Credit card payment form for convention registration go to:
http://www.ibmring160.com/media/8357/skmbt_c451f12022209470.pdf
Alan Watson - Publicity and Marketing