Magic New Zealand® is proudly sponsored by International Entertainment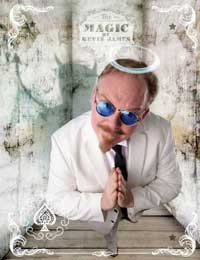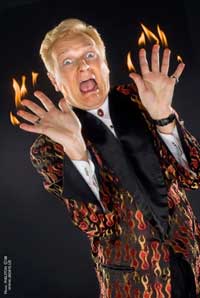 Kevin James and Jeff Hobson Joint lectures
If you are planning to see the fabulous magic show
The Illusionists make sure you also attend
the joint Kevin James and Jeff Hobson lectures
Kevin James will present a 1 hour lecture followed by a 1 hour lecture from Jeff Hobson
Very important notice: You must pre-register to attend these very special lectures by contacting
Keith Garrett to secure your place
Email: Keith Garrett - complink@xtra.co.nz
This is going to be a SOLD OUT event!
Auckland Joint Lectures only
Sponsored by IBM Ring 160 & Magic New Zealand
Date: Monday 27th May 2013
Time: 7.30pm sharp
Venue: TBA
Adult Lecture Fee: $25
Juniors (School age) and financial IBM 160 members: $10
Wives or Partners: $5
Email: Keith Garrett - complink@xtra.co.nz

1st Lecture - Kevin James
Kevin James is considered to be one of the most creative magicians on the planet. He has performed in 86 countries, did a Command Performance for the Obamas at the White House and is one of the current stars of the hit touring show "The Illusionists". He has also had more hits on YouTube than any other magician with his "Operation". This will be his only lecture in New Zealand.
The lecture will be an open forum where anything can and will be discussed. Kevin will show many items from his own performances over the years. There will be close-up, parlour and stage items. Kevin will be happy to talk about any other topic you might like. Some of the topics could include… creativity, designing your act, finding your market, performing on America's Got Talent, YouTube, how to brainstorm, touring with The Illusionists, just about anything.
Inventor / Comedy Illusionist / Storyteller / Collector of the Strange and Unusual
8272 Tibana Way Las Vegas, NV 89147 USA
Tel. 702.871.3797 www.kjmagic.com
check out kevin's latest promo reel on youtube http://www.youtube.com/watch?v=7Va3DbE4u_s
2nd Lecture - Jeff Hobson
Jeff Hobson is one of the most in-demand comedy magicians working today. His refreshing and clever mix of comedy and magic has brought him back for repeat performances all over the world.

Hobson has won numerous awards for his skills. Among the most recent is his Stage Magician of the Year award given by the Academy of Magical Arts aka The Magic Castle in Hollywood, California . He was also given the Best Comedy Magic award by the International Magic Awards Association as well as an award of Best Magic Review by the World Magic Awards for his role as star and producer of the critically acclaimed Carnival of Wonders show at the Reno Hilton Hotel and Casino in Reno, Nevada.

His television appearances includeHBO, Showtime's Comedy Club Network, Fox Family's Masters of Illusion, NBC's World's Greatest Magic as well as the star of Thames Television's Magic Comedy Strip a 16 week television series in England.

He is a favorite entertainer to many of the Fortune 500 companies. He has an uncanny ability to break the ice and allow everyone to enjoy themselves with his program of audience participation, comedy, magic and even fire eating! During his performance, Hobson tip-toes his way throughout the audience teasing the crowd. As his finale', Hobson returns a dozen wristwatches that were stolen? during the show to the surprise, laughter - and often times - shock of the audience members!

Register NOW to save disappointment later
Email: Keith Garrett - complink@xtra.co.nz