Magic New Zealand® is proudly sponsored by International Entertainment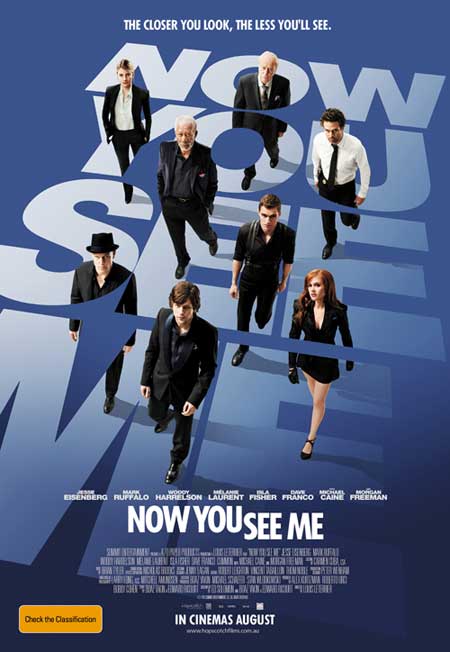 NOW YOU SEE ME - in NZ cinemas August 1, 2013
About the film: Starring a stellar cast; Mark Ruffalo, Isla Fisher, Jesse Eisenberg, Woody Harrelson, Melanie Laurent, Morgan Freeman and Michael Caine, NOW YOU SEE ME pits an elite FBI squad in a game of cat and mouse against "The Four Horsemen", a magic team of the world's greatest illusionists. The Four Horsemen pull off a series of daring heists against corrupt business leaders during their performances, and then funnel the millions of stolen profits into their audiences bank accounts, while staying one step ahead of the law.
To view the trailer visit http://www.hopscotchfilms.com.au/catalogue/nowyouseeme
FBI Special Agent Dylan (Ruffalo) is determined to make the magicians pay for their crimes-and to stop them before they pull off what promises to be an even more audacious heist. But he's forced to partner with Alma (Laurent), an Interpol detective about whom he is instantly suspicious. Out of desperation he turns to Thaddeus (Freeman), a famed magic debunker, who claims the bank heist was accomplished using disguises and video trickery. One thing Dylan and Alma agree on is that the Horsemen must have an outside point person, and that finding him (or her) is key to ending the magicians' crime spree. Could it be Thaddeus? Or Alma? Or could it really be... magic?

Privacy Policy and Copyright Notice

Our subscriber list is not made available to any other companies or individuals. We value every subscriber and respect your privacy. You can subscribe to or unsubscribe from the Magic New Zealand® E-zine at www.magicnewzealand.com Magic New Zealand® E-zine is published each Sunday. The opinions expressed therein are those of the individual contributors and not necessarily those of Magic New Zealand®. Neither Magic New Zealand® nor Alan Watson vouch for the accuracy or reliability of any opinion, message, statement, or other information reported via Magic New Zealand® E-zine. Subscribers to this publication and authors who contribute to it by doing so agree they will not hold Magic New Zealand® or Alan Watson, jointly or individually liable or responsible in any way for the opinions expressed therein.
Magic New Zealand® reserves the right to alter, correct or disregard any articles submitted. Readers are encouraged to submit timely articles or news items which may be of interest to subscribers. By submitting articles to this e-zine, the authors grant Magic New Zealand® the right to publish such articles and such authors confirm their copyright of the material submitted. All works published by Magic New Zealand® are protected by international copyright legislation and articles must not be published for profit by anyone other than the individual authors without the written permission of Magic New Zealand®. Notwithstanding the foregoing, this publication may be freely redistributed, but not sold, to other magicians if copied in its entirety, including the copyright notice below and the above disclaimer.

Copyright © 2013 Alan Watson.

Magic New Zealand® E-zine