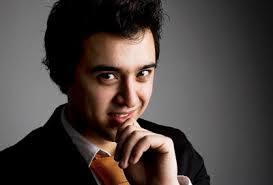 Fritz Alkemade (From The Netherlands) New Zealand lecture tour
At this stage subject to flights and yet to be confirmed the tentative lecture
dates are:
Auckland - Wednesday 16th July
Palmerston North - Saturday 19th July
Wellington - Monday 21st July
Christchurch - Friday 25th July
His DVD debut "Let's go Dutch" was raved about in both MAGIC ("a definite treat") and Genii Magazine ("well done, strong, versatile material"). He has tricks published in all the major magic magazines. And Fritz' contribution "Just in Time 2.0" was voted one of the best tricks of 2011 by Joshua Jay.
Fritz is one of the busiest working magicians in the Netherlands. Yes, the country that brought magicians such as Fred Kaps, Richard Ross, and Tommy Wonder. And now Fritz will share with you how he astonishes his audiences.
What is the lecture about?
Two hours of magic that comes straight out Fritz' professional repertoire. It's not a lecture, it's an interactive event, where there is room for discussion on philosophy, impromptu magic, card and coin magic, close and stand up, etc. Basically, whatever the magicians want!
"Fritz is one of the bright stars of the European magic scene. He never fails to show me something new, well thought out, and utterly amazing! And I know "amazing!" - Thom Peterson; The Amazing Guy
"A commendably accomplished performer who is explaining material which he has polished over countless performances and as a consequence, is worth it's weight in gold to any performing close-up card magician!"
- MagicSeen Magazine
"You will see powerful, practical and highly commercial card and close up magic, which I have see Fritz use to constantly fool and entertain with. Every item is so well thought out and I believe every item is worthy of your attention." - John Carey, 24Seven and Handle With Carey
"I have seen Fritz perform for laypeople on several occasions ... and he always kills!" - Andi Gladwin, co-owner Vanishing Inc. and organizer of The Session & MagiFest
"Fritz' magic is remarkable!" - Ger Copper, FISM winner 1979
"Fritz Alkemade is an entertaining performer. […] Commercial and exactly what professional strolling magicians need in their repertoires: visual, multi-phased, interactive and intriguing routines."
- Wayne Kawamoto, magic.about.com
"This guy is good. His stuff is pretty simple and extremely commercial. If you need some stuff for real audiences that's tested and powerful, stop right here."
- Jeff Stone, magicreviewed.com