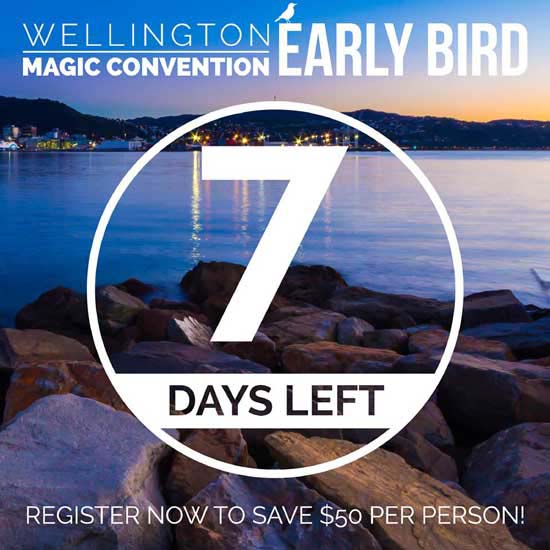 Wellington Magic Convention - October 2015
Early Bird Discount - Only 7 days Left!!!
Registration fees will be increasing by $50 per person on the 1st of May, 2015
Don't leave registration until the last minute! Registrations must be received by 11.59pm on the 30th of April, 2015 if you are to qualify for the early bird discount - No Exceptions!
How to Register
1. Register Online by going to www.wellingtonmagic.co.nz/register
It takes less that 2 minutes
Payment details emailed to you
2. Register by Post by printing THIS FORM and sending it to the listed address.
Physical forms must be received before the cut-off date, so plan accordingly!
Register Now - Pay Later
Even if you register today, you still have until the 8th of May to pay for your registration while still qualifying for the early bird discount.
For more information, or to get in touch, visit us at www.wellingtonmagic.co.nz.