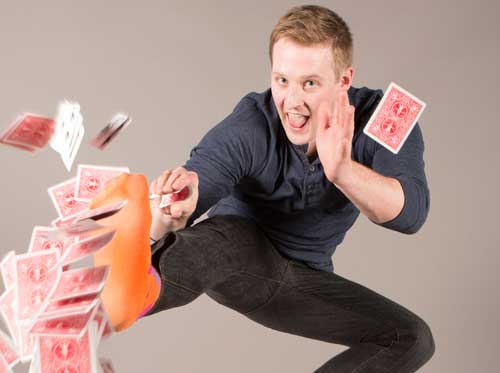 Wes Barker Lecture - Saturday 30th April
**FINAL CALL**
Registrations have been received from as far away as Christchurch and Tauranga.... BOOK NOW if you are planning to attend to save disappointment later.

There will be NO Walk-ins.....
To help with the catering and seating you must pre-register to be able to attend this special event.
Contact our Secretary James Fuller to pre-register your seats NOW as seating will be limited.

Email: jimmy@themagician.co.nz
Phone: 09 950 6251
Auckland Lecture
Sponsored by IBM Ring 160 & Magic New Zealand
Date: Saturday 30th April
Time: 7.30pm sharp
Venue: St George's Church at 19 Ranfurly Road in Epsom (off Market Road)
Adult Lecture fee: $25
Juniors (School age) and financial IBM 160 members: $10
Wives or Partners: $5
Lecture Notes - $20.00 NZ
It will contain everything in the lecture, PLUS 4 or 5 tricks and his Penn & Teller: Fool Us routine.


Who is Wes Barker?

Wes Barker: Stunt Magician is a Vancouver based entertainer, but tours all over the world. He has performed on stages from Las Vegas, to New York, to Australia.

His show features magic, comedy, and stunts. It's like watching a comic tell real-life stories, but stopping every so often to do amazing magic. Basically it's awesomeness from start to finish!

In the past year alone Wes has appeared on several TV shows such as America's Got Talent, Wizard Wars, MTV, and Penn & Teller: Fool Us (Which he won). Wes also has over 28 MILLION views on YouTube… but nothing is better than seeing him live.

What does a Stunt Magician do?

"I do EVERYTHING. My goal is to keep everyone laughing.
Sometimes it's with impressive physical feats or amazing sleight of hand, but normally it's just random acts of showing off! One thing I know for sure-I guarantee that everyone has a fantastic time."
~Wes Barker
Wes will open his lecture with how he fooled Penn & Teller….
- Wes lecture will cover.....
- How to be your own brand
- Getting on TV
- Making viral videos
- How and why to film your shows
- Creating magic that is unique to you
- Leaving your day job
- Learning to make cold calls
- Producing your own theatre show
- Working with other performers