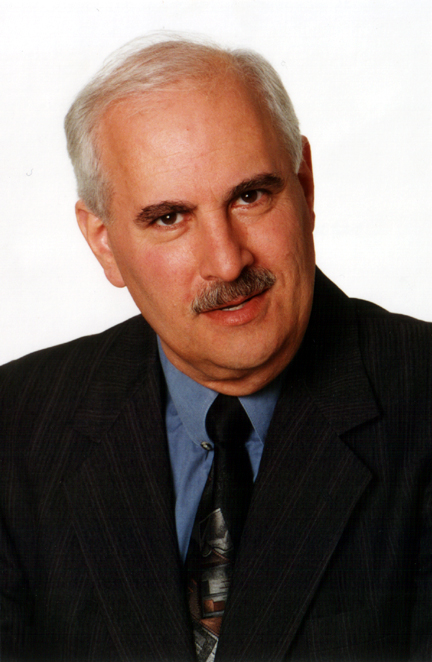 Broken Wand - Michael Woolf
Sad to report Michael Woolf has just passed away.

Funeral detail will be posted when advised.
Communications Man
He wasn't quite born in a trunk. But Michael Woolf has always loved performing, the theatre and magic. Growing up in Essex, England, in the 1940s, he knew that one day he would be a performer. One of his earliest memories is of performing a puppet show at primary school - imitative of a pantomime. In those days medium-sized towns in England had their own variety theatre, and each week a different bill would appear. The orchestra conductor at the Regal, Southend-on-Sea, was Arthur Cowan - a friend of Michael's parents, known to all as Uncle Arthur.

During school holidays he would often take the stage-struck youngster to the theatre to watch rehearsals. Michael remembers seeing comedian Arthur English, later to star in "Are You Being Served," performing his "spiv" character. (The word has passed out of the language . . .) Pantomimes, circuses, comedians and specialty acts were there in those just-post-war years. Michael remembers vividly the Jasper Maskelyne show, the magician out of the services following his camouflaging activities, and wearing miniatures of his military decorations on an immaculate evening dress suit, performing an "Asrah" that made a lasting impression on the youngster.
Travels With Punch
In the late 1940s Michael's parents decided to make a new life in New Zealand. Travel in those days meant a lengthy ocean voyage and to keep the nine-year-old occupied Michael's parents gave him a set of Punch and Judy puppets. And an elderly aunt presented him with a pre-war Hamley's magic set. Passengers on the old ship "Orontes" found it impossible to escape as performances were constantly given. Also on board were some well-known entertainers of the day - members of the Colleano family and duo-pianists Ivor Moreton and Dave Kaye, on their way to an Australasian Tivoli tour. At Lyall Bay Primary School Michael was again a regular performer. And his father made a portable stage for the Punch and Judy Show.

He has no memory of ever having seen a Punch performance as a child, and created his own storyline - along broadly traditional lines. By the time he went to his Secondary School, Rongotai College, word of his abilities had begun to spread and he started to take bookings for birthday parties. Publicity attended these and after a few years it was common for his name to be called at Assembly - "Woolf - report to the Headmaster!" But this was seldom because of any misdemeanor - word of his abilities had spread and organizations would telephone the school to book the young performer. The Headmaster suggested wryly that he might seek a career as a Punch and Judy Man. He saved pocket money and proceeds from performance and sent to Davenports for a ventriloquist doll head, and had a body made by Wally Moran.
Magic beckons
He developed his magical skills, visiting Stewart's Studio of Magic, then in Manners Street Wellington, to buy from Manager John Brennan. He later joined the New Zealand Fellowship of Magicians, and has a Certificate of Merit dated 1955, signed by Bert South and Graham Grant. Among his friends and contemporaries was the late Roger Holyoake. Whenever a magician visited Wellington he was drawn as if by force. He saw John Calvert and Sorcar. Then there was Virgil, really the last of the great touring shows. He had quarantine troubles with his animals on that New Zealand tour. There was a routine associated with the American master. As a young would-be magician Michael grabbed a seat at the front of the stalls of the Opera House, immediately beside the steps leading to the stage. At the moment that there was a suggestion that a young assistant was needed, Michael jumped from his seat and rushed up the steps. Virgil was working Chinese rings in front of tabs.

A card was forced - Michael says you had no choice, it was jammed into your hand - and as the tabs parted, there was a science -fiction scene ready for an illusion. At the appropriate moment, as a misdirection, the young assistant was instructed under the master's breath, to "scream like mad and run back to his seat." You did this, then enjoyed the rest of the show with a professional air. After the show you went backstage - and Virgil would give you another ticket - for the same seat at the following night's performance. Michael's greatest thrill was to be greeted almost as a member of the troupe with a wink from the magician's assistant when he mounted the stage as volunteer for about the fifth night in a row. Many years later Michael enjoyed sharing this memory with his friend the well-known American collector and ex-touring magical performer John Daniel of Pasadena. Virgil had been Daniel's mentor, and his collection includes many of the master's props and effects.
Professional props
By this time the small Punch and Judy show had been replaced - initially by puppets made by another school pupil, and then by a professional outfit. His parents had seen this advertised for sale in the newspapers. It came from Hawera, and had on the proscenium the words "Punch and Judy" and the dates "1644 - 1944." The first year denoting the first Punch performance in England, the second possibly the date of manufacture of the stage. Michael up-dated this to "1954." The figures were papier-mâché, stage-size, with Mr Punch standing two feet tall. Michael continued to perform at birthday parties, including one for the children of the then Governor-General, Lord Cobham. During the school holidays he went to Blenheim as compere and resident performer for an annual celebration in the district, performing puppets, magic and vent.

This was successful and he was invited back for several years in succession. He returned to Blenheim for two Christmas seasons, at the invitation of a local department store. For Christmas the Judge puppet became Father Christmas, coming down the chimney with the aid of black-art, to the tune of "Here Comes Santa Claus" and great applause. The fledgling entertainer was learning by the seat of his pants: audience responses, publicity and the importance of self-criticism were shaping his future abilities. Then there was the social side. At that time Michael (a young teenager) was painfully shy. The strong personality emerged only on stage. So he stayed in hotels alone, and apart from performances barely spoke to a soul.
Drama
At school he had joined the Dramatic Club, and performed with the late Mike Haigh as well as lawyer Des Deacon and Justice Dick Heron. Also there was television producer Peter Coates, and Nick Garland, who was to make a significant name as a principal of "Private Eye" in London of the swinging 'sixties. One Christmas he was invited to set up the Punch and Judy show for performances at a carnival at Petone. This season was notable because of the tragic aftermath of a body-building contest. "Mr. New Zealand" was selected. The next day the winner travelled from Wellington by train to Auckland. And the rail disaster happened at Tangiwai. The last Punch and Judy performance was a triumph, performed in the old Wellington Town Hall Concert Chamber for an audience comprising the diplomatic corps and their families. By this time the artistry of the performance had been well honed, and Michael took his bow to a standing ovation. It was time to leave school and start a career.
This Is The N Z B S
Having flirted briefly with the notion of becoming a cinema projectionist Michael decided on a career as a radio announcer. On leaving school he joined the New Zealand Broadcasting Service. His association with radio had begun some years earlier, with work as a child actor in radio plays, and also as one of the "Quiz Kids." A contemporary on this programme of Jonathan Hunt M.P., he was involved in the last programme compered by the late Jack Maybury. Selwyn Toogood took over as quizmaster from the next episode, and a year or two later telephoned to invite Michael to be a team member for a season to be transmitted live by television. This took place at the Wellington Winter Show. It was in fact a simulcast of sorts because the programmes were recorded for later network radio broadcast.

Another highlight of this season was the television broadcast of Michael's Punch and Judy show, believed to be the first time in New Zealand that a puppet show was televised. On joining the NZBS Michael disposed of the Punch and Judy show, the vent. doll and all the magic apparatus, in the mistaken belief that he had put behind him such things and was now about to enter a more sophisticated world. He has often tried to discover the whereabouts of these pieces but without success. He would greatly love being able to place these precious momentos of his past in his collection of magical memorabilia, but cannot recall who obtained them from him in about 1955 or 1956, and he has no knowledge of what may have become of them.
Radio Times
The radio career began. He was a "cadet" for a year or so, an underpaid office-boy, before being appointed an announcer - first to 2YA and then to 2ZB. He was the breakfast-session man for much of his time there, and also was associated with the early broadcasts of Johnny Devlin, Johnny O'Keefe and the Howard Morrison Quartet. He hijacked an outside broadcast installation to interview Frank Ifield at the beginning of his career, and spent a day with comedian Stan Freberg. Then there were the Platters, Tommy Sands, and other visiting celebrities. Interview subjects later in his career have included jazz greats Dave Brubeck and Nat Adderley, Irene Handl, Eartha Kitt and Victoria De Los Angeles. He left the NZBS to accept an offer from an advertising agency, writing and producing commercials and presenting a network radio show.

He continued a lot of radio drama work and recording of film commentaries, commercials, and stage acting. Michael wrote, directed and produced commercials when television began. He left the agency for the New Zealand tour of Shakespeare's "Romeo and Juliet" in 1961, then was a television presenter in the early days of WNTV1. He married Jill in 1962 and left New Zealand to spend some months working in Australia, on soap opera and radio dramas in Sydney, plus one stage play and some television. Became an "occer" Australian when they found that their Kings Cross apartment was next to that of Ritchie Benaud, and really felt he had arrived when he sat next to Chips Rafferty on the top deck of a double-decker bus. Returning to New Zealand he resumed a freelance life in radio, television, stage and occasional films. ("Goodbye Pork Pie" and the lead with Ian Mune in the children's' film "Rangi's Catch" which was also the first screen appearance for Temuera Morrison.)

Appearing as a comedian in a pantomime in Wellington he worked on illusions with Bernard Reid, who played the wicked magician. Had a happy reunion with Bernard Reid again some years later while on holiday in Napier, when Bernard was touring as "The Great Diablo." He appeared in many stage plays at Downstage including his first personal magic performance in many years, when he prepared an authentic re-creation of a Victorian stage magician for a Music Hall production. (His magical background was also useful in a play some years later, when he designed and made a gimmick to be fitted to a valuable antique long-case clock, in order to make the clock strike to order. This was too successful - it worked so reliably that the stage-manager forgot that the clock also needed to be wound up!)
Public Office
In 1973 Michael was elected to the Wellington Committee of Actors' Equity. He succeeded Hamish Keith as National President and held that role for four years. During that period of public office he spearheaded many advances for New Zealand performers including the negotiation of the first agreements between performers and the television authorities. Invited for two successive years to be a guest of the Variety Artists Convention in Auckland he had the pleasure of spending time in the company of several other guests including the late Mayor Robbie, Matiu Rata and Edgar Benyon. On retirement from Equity office Michael was awarded the honour of Honorary Life Membership. In 1985 he was appointed a Justice of the Peace. He holds the qualification of Associate of the New Zealand Institute of Management.
The Educator
For seventeen years Michael was involved in tertiary tuition as Tutor-in-Charge of the Audio-Visual Department at Wellington Polytechnic. As a father of three and grandfather of six he always enjoys the stimulating company of young people.
Back to radio
He left his teaching position to take up an offer from Concert FM, the classical radio network. He enjoyed the challenge of presenting a daily 'drive-time' programme for three years until dissatisfied with management changes and policies at Concert FM. He resigned at the beginning of 1996 and set up a freelance creative consultancy which he finds far more rewarding. Michael has done "everything in radio except rugby commentaries." Interviewing Michael at the end of 1996 Brian Edwards called him "The Compleat Broadcaster." He now works from home, close to his family and other interests.
Pastoral Paradise
Having lived for 26 years and raised a family in an Edwardian house in the inner suburb of Hataitai, Michael and Jill bought a twelve acre lifestyle property at Horokiwi. Situated high on the hills overlooking Wellington harbour, this haven of peace has plenty of rooms (the Laflin family, Ron London, Tania Nordick, David Ginn, Bernard Reid and Sean and Diane Taylor have been welcome house-guests) as well as a large building that houses Michael's other lifelong love - his collection of antique mechanical musical instruments. Michael collects and restores player pianos, musical boxes, juke boxes, phonographs and mechanical organs including the only Wurlitzer Theatre Organ in New Zealand to be installed in a private home.

And also old penny-in-the-slot machines from the penny arcades of the past. These mechanical wonders give entertainment to Michael and his guests. He also collects and displays old magical apparatus. "It's great to be able to share these items that otherwise get lost" he says. "Magicians and lay people alike enjoy seeing the display and especially the association with magicians of the past." One prized item is a beautifully-made die box, once the property of Les Levante. Also on display are superb costumes from the Long Tack Sam touring show, posters and effects the former property of the late Steve Willard, and many other interesting items.
Magic again
In about 1990 Michael's interest in active magic had been rekindled. He joined the Wellington Society of Magicians, began attending Magicana Days, and in 1993 attended the Canterbury Society's Convention where he was asked to assist as a Judge. It was here that he met Roger Holyoake for the first time in about forty years. They rekindled the old friendship of their teenage years but sadly this was to be their last meeting. Roger died just a few months later and Michael was given the task of disposing of his magical equipment.
Welsh Wizard
Also at Christchurch Michael was thrown together with Rovi, and the great Welsh magician became a close friend.. A transport misunderstanding left them stranded at Merivale Mall, and formed the beginning of a friendship that was only broken with Rovi's death in 1996. They met again at the Wanganui convention. Rovi did a lecture in Wellington, and he and his wife Minnie were house-guests of the Woolfs. During his lecture the famous beady eyes fixed on the audience. "I want to thank Jill and Michael for having us to stay" he said. "I never slept three in a bed before!" That visit also saw the beginning of another magical milestone. Rovi wanted to take Michael and Jill out for dinner, and discovered that there was a Welsh restaurant in Wellington.

Rovi made the booking in Welsh so the Woolfs had no idea of what was in store. On arrival at the restaurant Rovi took over completely, table-hopping and entertaining the whole place, which reverberated to the sound of: "Are you married or happy?" and "Take a card - never mind about the four of hearts!" The restaurant, Scorpios, has never forgotten that night - Roderick Mulgan and Michael have performed there occasionally, as well as making bookings for private and family functions. In addition, entertainment has been provided for visiting magicians including Chuck Jones and Steve Bender.
Hutt Valley Magicians' Society
As mentioned, Michael and Jill moved to Horokiwi in the Hutt Valley. At about the same time Roderick and Sarah Mulgan moved to Whiteman's Valley, also in the Hutt. It seemed that there was a need for a magic group to serve the area The Hutt Valley Magicians' Society was formed with Michael as President and Roderick as Secretary. Roderick and Michael work closely together. Rovi was the first Patron. The group meets at the Woolf home...
25th New Zealand International Magicians' Convention, Hutt Valley Easter 1999
For some time Roderick and Michael had contemplated holding a small-scale gathering of magicians, perhaps at Labour Weekend. Michael attended "Conjurama 1996" in Timaru, and enjoyed the event. But there seemed to be a need for a larger scale event as there had been no Convention in this area for many years, after serious discussion it was decided to convene a Convention in the Hutt Valley in 1999. This was given IBM support, and approval was coming from everyone approached. A small working party was established, and responsibilities divided. Michael was appointed Convenor, with Peter Chik handling registrations, finances and administration. Peter is a Chartered Accountant and his skills were invaluable. In addition to establishing a style for the Convention and assuming responsibility as Convenor, Michael had primary responsibility for promotion and publicity, overseas liaison and sponsorship. Roderick picked up everything that was left. This included the Competitions and Public Events.

The team co-opted assistance from many areas - Cliff Thomas kindly agreed to produce the graphic designs, and MagicNZ sponsored the establishment and maintenance of a Website. Jim Reilly gave publicity in Magicana on friendly terms, and overseas responses were most encouraging. The 1999 Convention was called "A Century of Magic." This signified the great events in magic during the past hundred years. The Convention was a successful and happy event with a certain style. Michael put his stamp on the Convention as a small contribution - a personal way of saying thanks to the world of magic - a world that has brought so much pleasure to so many in the past, and in the future.
Michael says this is one way to give something back to magic. "I have had so much pleasure from the world of magic for so many years that I felt a duty to do something in return" he says. "Our Society has a predominantly young membership. By encouraging them and giving them the benefit of my experience as a performer in all fields I can make a small contribution. Our Society is developing strongly. It is my hope that one outcome of the 1999 Convention will be to put the Hutt Valley Magicians' Society on the map, increasing awareness of magic and the Society in the district and encouraging more people to join."
"Magicana" was the famous magazine for magicians published in New Zealand with an international focus. It is printed every two months. A 36-glossy-page magazine in full colour. Magicana was founded in 1953, Michael Woolf has been Editor/Publisher for eleven years. It has some significant names on the subscriber/contributor list - Bev Bergeron, George Schindler, Jack White, the late John Booth, Maurine Christopher, Eddie Dawes, Duane Laflin, John Calvert, Norm Nielsen, Bernard Reid, David Ginn, Richard Webster, Ken Ring, Terry Seabrooke- the list goes on.
"Magicana" tried to be all things to all people - professional and amateur performers, enthusiasts, collectors - everyone interested in any aspect of magic.