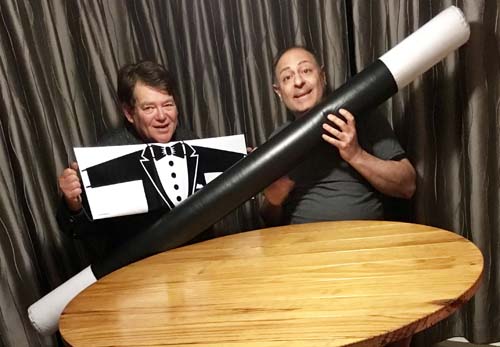 Silly Billy (USA)
If you are planning to attend Silly Billy's Auckland lecture on Monday 18th June 2018 best to register NOW by going to: https://lectures.ibmring160.com
AS THIS LECTURE WILL SOON BE SOLD OUT!
David Kaye is one of the most respected children's magicians in the world. With his popular book, Seriously Silly, he is favored for his ability to teach the psychology of children as they watch and react to a magic show. Even magicians who do not perform for children will be entertained, as you will learn to understand how performing for children differs so much from performing magic for adult audiences.
Take your magic show for kids from Good to Great! Learn how to use David's philosophy of Interactions Per Minute to supercharge your routines, making them hilariously funny, interactive, and engaging. You will also learn the most important entertainment techniques for children and their psychological explanations. And you will learn great tricks you can make at home.
Plus:
Learn David's creativity techniques so you can become a more creative magician.
Learn why Empowering The Children is the fastest way to a child's brain and heart
Learn the five most important Marketing techniques to increase your bookings
Learn 33 ways to make your magic routines better
Learn how to change your routines depending on the ages of the children in the audience
Plus learn unpublished routines from David's repertoire.

Auckland Lecture
Sponsored by IBM Ring 160 & Magic New Zealand
Date: Monday 18th June 2018
Start Time: 7.30pm sharp
Venue: The Surrey Hotel, 465 Great North Rd, Grey Lynn, Auckland 1021
Adult Lecture fee: $25
Juniors (School age) and financial IBM 160 members: $10
Wives or Partners: $5
Silly Billy (USA) - New Zealand lecture tour
Auckland - Monday 18th June 2018
Palmerston North - Wednesday 20th June
Wellington - Friday 22th June
Christchurch - Monday 25th June
Dunedin - Thurs 28th June