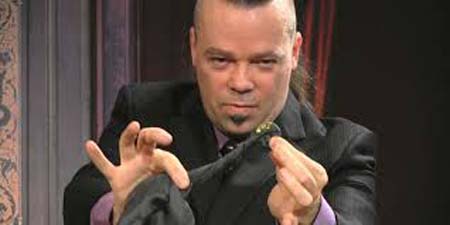 Dan Harlan's (USA)
Dan Harlan's (USA) Auckland lecture registration will be closing very soon.
There will be NO Walk-ins.. 40+ have already registered
This will be a SELL OUT event....
If you are planning to attend Dans Auckland lecture best to register NOW

To register for the Auckland lecture email:
Andy Wonder - events@magicians.org.nz
Andy requires the names of those attending
Auckland Lecture
Sponsored by IBM Ring 160 & Magic New Zealand
Date: Tuesday 2nd July
Start Time: 7.30pm sharp
Venue: The Surrey Hotel, 465 Great North Rd, Grey Lynn, Auckland 1021
Adult Lecture fee: $30
Juniors & Students with ID (School age) and financial IBM 160 members: $15
Wives or Partners: $10
Lecture fee Cash only
Dan Harlan's Confirmed New Zealand lecture dates:
Auckland - Tuesday 2nd July
Wellington - Wednesday 3rd July

Lecture items for sale
The Awakening at $40 Hold It, Buster! at $40 Stash at $40 Crazy-8 at $20.
There will also be a "table deal" (one of everything) for $120.

It's best for buyers to be prepared with convenient cash. Also, if we sell out of anything, we'll provide a coupon code for our website for free shipping on any order.

I anticipate we may be sold out of some items by the time we reach New Zealand

Dan is truly amazing. He will make you laugh at the "World's Saddest Trick," hold you spellbound with a piece of rope, make you believe in the power of a cheese-filled banana and he will charm you with a picnic napkin.
Harlan is one of the most creative forces in magic. Witty, charming, suave, and silly; his act is like no one else's in magic. He has invented many popular tricks used by his peers. His advice and innovative ideas are respected and sought by magicians around the world and he has released many videos featuring his phenomenal magic and strange sense of humor.